Domestic Violence Lawyers Based in Denver – REPRESENTING CLIENTS ACCUSED OF DOMESTIC VIOLENCE FOR OVER TWO DECADES
Denver Domestic Violence Attorney – Guiding Clients Through The Complicated Legal Process
Recognized as one of the top criminal defense law firms in Denver, we have earned

Daniel M. Murphy, P.C.

4.7

/5 stars – based on

15

reviews.

Our award-winning team of attorneys provides aggressive representation to clients facing any type of criminal charge.
If you schedule a free consultation with our law firm, you will receive honest advice regarding your legal options.
Thanks to our payment plan option, working with some of the best lawyers in Denver is affordable and convenient.
Read some of our glowing reviews from former clients to learn more about what it's like to work with lawyer Daniel M. Murphy.
Almost anyone can be charged with domestic violence in Colorado. Even when a defendant is acquitted, and the accusation is eventually discredited, just being charged with domestic violence can have negative consequences. A domestic violence charge is a reflection on your character; while it can cost you fines and even jail time, the worst loss can be the loss of respect from friends, children, colleagues, and neighbors. Domestic violence charges can negatively impact employment opportunities, child custody arrangements, and other important parts of your life. Teachers and childcare workers can lose their professional licenses, and you can also lose your right to own or carry a firearm, potentially a career killer for those in military or law enforcement positions.
Domestic violence may be charged in Denver as a misdemeanor (a physical push, a slap, or a threat, for example) or as a felony if the abuse has caused a severe or lasting injury. Domestic violence cases can include charges of assault, battery, harassment, menacing, kidnapping, and burglary. Once the police are involved, a number of issues may arise. Often a restraining order provides protection to victims and prevents a defendant from going home, making many domestic violence defendants effectively homeless. Some courts attach a global positioning device to defendants to monitor their whereabouts. Even when an alleged victim recants or denies a domestic violence accusation, once the State of Colorado has filed a case, you must be ready to confront the charge.
Mandatory Arrest
Some states in the country, including Colorado, have mandatory arrest laws for domestic violence. Under these mandatory arrest laws, police officers responding to the scene of a domestic violence incident are authorized to immediately arrest the person they believe is perpetrating domestic violence.
For example, if you were involved in an argument with your wife, and she calls an officer to your home, the officer responding to your house must arrest you if he has probable cause to believe that a domestic violence crime has occurred in your home. The officer must arrest you without any delay.
Get in touch with a Colorado criminal defense attorney, as soon as your intimate partner or someone with whom you have an intimate relationship within your house makes a call the police to report an incident of domestic violence. You are very likely to be arrested. Make no mistake about it. Lawyers recommend that you do not speak to police officers until you have received legal advice from an attorney. It's important to understand you have the right to remain silent, and anything you say may be taken out of context in court, which is why it's best to stay quiet.
Domestic violence belongs to a rare category of crimes, in which the focus is on the victim. The victim, in these cases, cannot simply drop the charges once they are filed. The victim has no control once charges have been filed. Once the victim files charges of domestic violence against you, the charges will press on, even if the victim wants to drop the charges after a change of heart. Once a domestic violence case goes to a prosecutor, it isn't easy for prosecutors to dismiss the case. The DAs Office may have some amount of discretion on how to proceed with the case, but the bottom line is that it is difficult to get charges lowered or dropped in your case.
If you were arrested for domestic violence in Colorado, speak immediately with a Denver criminal defense attorney. A domestic violence conviction can have long-term complications for your personal, professional, and social lives. A conviction will remain on your record, and you may find it difficult to secure housing or employment because of the violent crime you allegedly committed.
What to Do During An Arrest
One minute you're arguing about something you can't remember, and the next minute, your wife is on the phone with the police. This is how most incidents of domestic violence that are reported to Denver domestic violence defense attorneys begin.
Once officers arrive at the scene, remain silent. Don't make excuses for your behavior. Under Colorado's mandatory arrest laws, a peace officer responding to your home is ordered to arrest you if he has probable cause to believe that a domestic violence incident has occurred on the property.
Get in touch with a Denver domestic violence defense attorney immediately. Your lawyer will work on posting the bond for you. When you are out of jail, don't get into contact with your wife. It's absolutely imperative that you avoid any contact with your wife, even to explain or apologize for your actions. Very often, people end up making this mistake, believing that they can convince their wives to drop charges. Once charges are filed, it is not in your wife's power to get charges dropped. If you make repeated attempts to get in contact with the victim, you could face additional penalties for stalking.
I cannot recommend Daniel Murphy enough. He promptly met with me and was very informative in regards to a legal issue of mine. His counsel was incredibly helpful and he went above and beyond for me even though I did not end up needing his services. I highly highly recommend Mr Murphy for any legal issues you may need counsel on. – Stephen Canning
Not an Automatic Conviction
Domestic violence is not an automatic conviction. But a successful defense for domestic violence charges requires the skills of an experienced Denver domestic violence attorney. Daniel M. Murphy is a respected Denver-area criminal defense attorney with over 25 years of legal experience. He understands the difficult circumstances that a domestic violence charge can create. He will answer your questions, explain the domestic violence laws, and develop a defense strategy to achieve the best possible result.
Possible Defenses
The fact is that many domestic violence complaints are based on fraud or lies. False complaints are far too common to ignore. When a person is accused of domestic violence, there are serious repercussions for his work, social and personal interactions, and relationships with his community.
Another one of the most widely used defenses is self-defense. Your Denver criminal defense lawyer may argue that the injuries that the plaintiff suffered were the result of an altercation in which you tried to defend yourself from his or her attacks. Speak to your Denver criminal defense lawyer if this kind of defense would be appropriate in your case. Your criminal defense lawyer may also try to downplay the attack as being too minor to warrant legal action.
Discuss your case with a Denver criminal defense lawyer to consider your legal defense options.
Hire A Denver Domestic Violence Attorney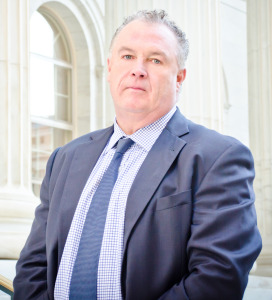 Dan Murphy provides a strong, aggressive defense for clients accused of domestic violence and domestic violence-related charges, including assault, battery, harassment, and violation of a restraining order. Dan Murphy also represents people facing child abuse, theft, drug crime, and sexual crime charges. Denver domestic violence attorney Dan Murphy can also represent you in fighting a permanent restraining order. Denver law generally favors the alleged victim in domestic violence cases; obtaining a temporary restraining order, for example, typically is not difficult. Denver defense attorney, Dan Murphy will put the law back on your side. He will take the time to uncover the facts in your case, question the witnesses, and deliver an effective, articulate defense while steadfastly defending your rights and working toward the best end result.
Get the legal help you need to deal with a domestic violence charge and move forward with your life. Schedule a free consultation with Denver domestic violence attorney, Dan Murphy today!